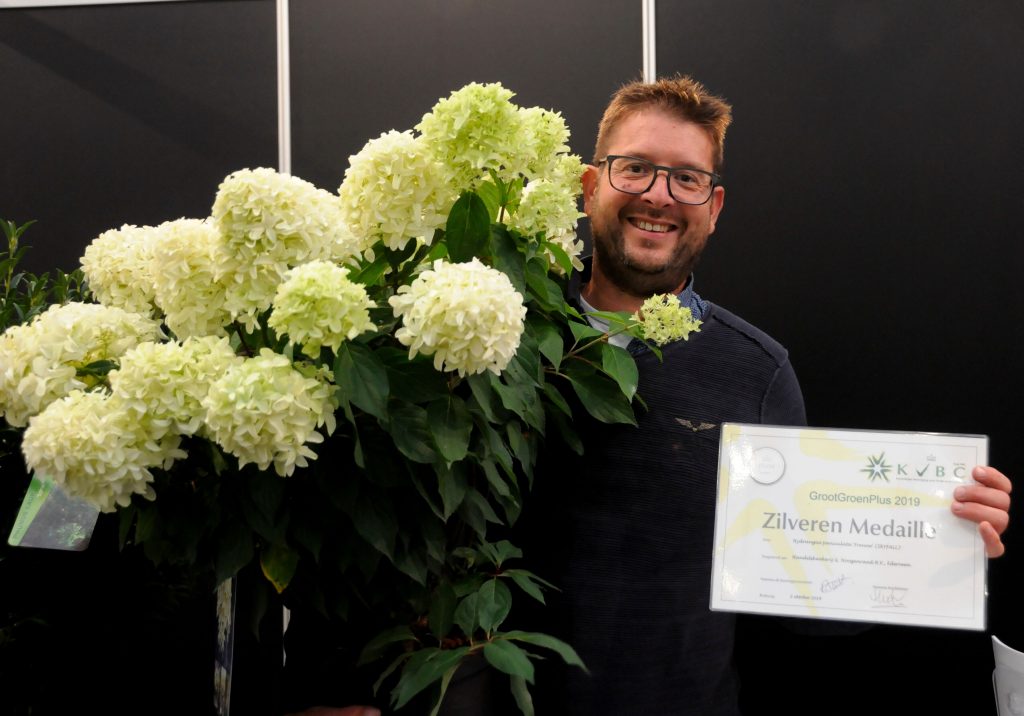 Peter van Rijssen of Plantipp BV was pleasantly surprised when he attended the awards ceremony of the medals at the trade fair
GrootGroenPlus
in Zundert. Of the eleven entries in total that received a medal, 5 where entered by Plantipp. The novelties inspection was carried out by the inspection committee of the
KVBC
(Royal Dutch Horticultural Society).
Pyracantha coccinea 'Red Star'
received a gold medal. This Pyracantha bears a lot of fruit, despite the sturdy pruning. Also the branches have little thorns and the plant is visually strong. Reason for KVBC's judges to crown this Pyracantha with a gold medal. 'Red Star' was won by Van der Sar-Vermaat from 's-Gravenzande and was submitted for the inspection by Hoogeveen Plants B.V. from Hazerswoude-Dorp. A silver medal was awarded to
Hydrangea pan. Skyfall
('Frenne'),
Juniperus scopulorum Blue Ivory
('Klaverjun') and
Thuja occidentalis Totem Smaragd
('Thuclavo'). For Hydrangea pan. Skyfall heralded the jury report: beautiful, bushy plants. Rich flowering with very nice creamy white flower panicles. Excellent presentation. Skyfall is bred by Guido Rouwette from Valkenburg. Regarding Juniperus Blue Ivory, the jury considered that it is a "cheerful" plant of which the older plants give a better picture than the young ones. This conifer that was bred by Arie van Klaveren from Waddinxveen, has a distinct ornamental value. Thuja Totem Smarag was praised for its very compact slim growth habit with a remarkable, flattened top and the beautiful, fresh green foliage. Breeder of Totem Smaragd is Casey van Vloten from Canada. The silver medalists are all three submitted for the inspection by Handelskwekerij G. Hoogenraad BV from Ederveen. Last but not least, a bronze medal for
Morus BonBonBerry® Mojo Berry
('Matsunaga'). This mulberry flowers rich and bears fruit on one year's wood. There were even sufficient fruits to be able to assess them during the inspection. Morus BonBonBerry® Mojo Berry is a breeding of Mr. Matsunaga from Japan, signed up for the novelties inspection by Willy de Nolf NV from Belgium. Plantipp congratulates the breeders and the growers with this wonderful performance! These plants are all protected by plant breeders' rights and are managed by Plantipp BV from IJsselstein. Picture: Guido Rouwette, breeder of a.o. Hydrangea pan. Skyfall.